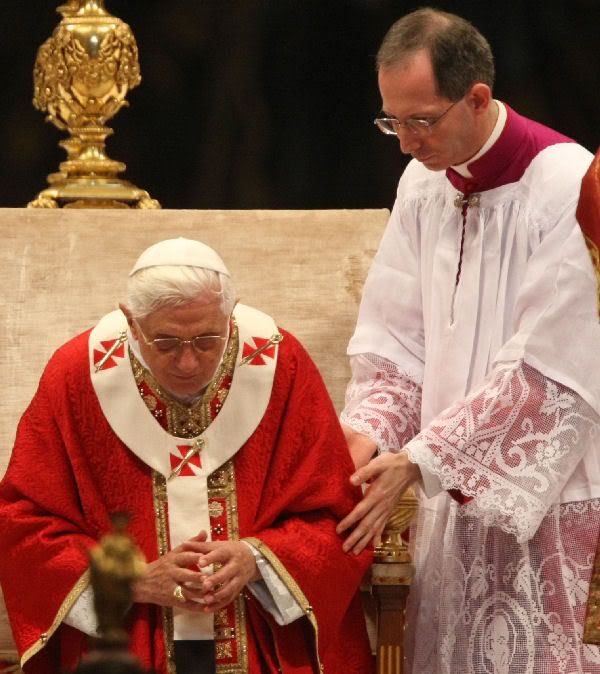 Instytucje odpowiadające za kształt liturgii zostały przepłukane ludźmi z zewnątrz?
Tak. Jeszcze bardziej dotyczy do Urzędu Ceremonii Papieskich, którego skład za Benedykta XVI zmienił się nie od razu, lecz gruntownie. Na przykład ksiądz Guido Marini, który jest mistrzem ceremonii papieskich - w 2007 r. zastąpił arcybiskupa Piero. To jest kapłan z Genui, który wstąpił do seminarium w 1989 r., jeszcze za czasów kardynała Giuseppe Siriego. To od czasu nominacji księdza Mariniego celebry papieskie zaczęły nabierać tego kształtu, który można było przewidywać na podstawie wcześniejszych myśli Papieża: na środku ołtarza pojawił się nareszcie krzyż, dla przystępujących do Komunii ustawiono klęczniki...
Mówiono o nim: "inny Marini".
Zbieżność nazwisk poprzedniego i obecnego mistrza ceremonii papieskich wprowadza czasami zamieszanie. Ich idee są przecież miejscami dość różne. Tym bardziej trzeba uznać za niesmaczne takie manipulacje, jakich dopuściło się także jedno z polskich wydawnictw katolickich: proszę sobie wyobrazić, że w ubiegłym roku wydano książkę pt.
Ceremoniarz papieski
, a na jej okładce jest zdjęcie Benedykta XVI z... arcybiskupem Piero Marinim. Oczywiście wydawnictwo jest na pewno w stanie z wszystkiego się wytłumaczyć: owszem, Piero Marini był przez jakiś czas ceremoniarzem także przy obecnym Papieżu. A jednak to jasne, że robiąc coś takiego, wprowadza się zamęt. Piero Marini to postać mocno związana z poprzednim pontyfikatem, można było zatem dać na okładkę jego zdjęcie przy bł. Janie Pawle II. Ceremoniarzem papieskim wybranym przez Benedykta XVI jest zaś Guido Marini. (...)
---

Paweł Milcarek,
Według Boga czy według świata
, Dębogóra 2011, s. 203-204.